Ten Common Entry-Level Marketing Jobs for Recent Grads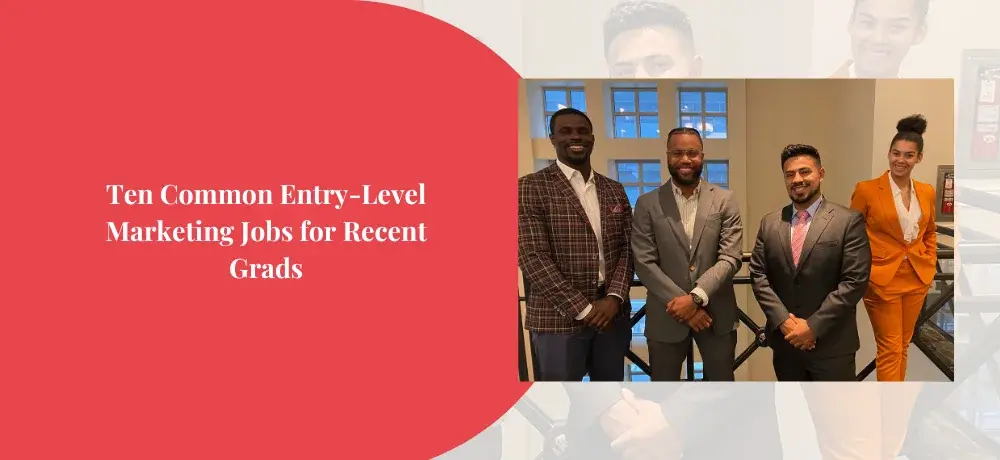 As a recent graduate, you may find yourself at the crossroads of uncertainty, trying to determine the right career path to embark upon. With a plethora of options available, it can be overwhelming to make a decision that aligns with your skills, interests, and long-term goals. In today's digital age, the field of marketing offers a myriad of opportunities for young professionals like yourself. In this blog, we will explore 10 common entry-level marketing jobs that are ideal for recent grads looking to kickstart their careers. These roles not only provide valuable experience but also pave the way for growth and advancement in the exciting world of marketing.
1. Marketing Assistant
As a marketing assistant, you will work closely with the marketing team, providing support in various tasks such as market research, data analysis, and content creation. This role allows you to gain exposure to different facets of marketing and develop a strong foundation in the field.
2. Social Media Coordinator
With the rise of social media platforms, businesses are investing heavily in their online presence. As a social media coordinator, you will be responsible for managing and implementing social media strategies, creating engaging content, and analyzing campaign performance. This role offers an excellent opportunity to harness your creativity and stay updated with the latest social media trends.
3. Content Writer
If you have a passion for writing, a career as a content writer may be a perfect fit for you. Content writers produce persuasive and informative content for websites, blogs, and other marketing channels. This role requires exceptional writing skills, attention to detail, and the ability to adapt your writing style to different target audiences.
4. SEO Specialist
In the age of search engine dominance, businesses rely on search engine optimization (SEO) to increase their online visibility. As an SEO specialist, you will optimize websites, conduct keyword research, and analyze website performance. This role demands analytical thinking, technical expertise, and the ability to keep up with ever-evolving SEO practices.
5. Email Marketing Coordinator
Email marketing remains a powerful tool in the marketing arsenal. As an email marketing coordinator, you will create and execute email campaigns, segment target audiences, and analyze campaign metrics. This role requires strong communication skills, creativity, and the ability to craft compelling messages that resonate with subscribers.
6. Market Research Analyst
Market research analysts play a crucial role in helping businesses make informed decisions. In this role, you will collect and analyze data, conduct surveys and interviews, and provide insights into market trends and consumer behavior. Strong analytical skills, attention to detail, and the ability to interpret data are essential for success in this position.
7. Event Coordinator
If you have excellent organizational and interpersonal skills, a career as an event coordinator could be an exciting option. Event coordinators plan and execute marketing events, such as trade shows, conferences, and product launches. This role requires meticulous planning, multitasking abilities, and the ability to handle high-pressure situations.
8. Brand Ambassador
As a brand ambassador, you will represent a company and its products or services, both online and offline. Your primary responsibility will be to build brand awareness, engage with customers, and promote the brand's values and offerings. This role requires excellent communication skills, a charismatic personality, and a deep understanding of the brand's identity.
9. Marketing Analyst
Marketing analysts analyze marketing data, conduct market research, and identify opportunities for improvement. They play a crucial role in evaluating marketing campaigns and measuring their effectiveness. This role demands strong analytical and problem-solving skills, as well as proficiency in data analysis tools and techniques.
10. Digital Marketing Coordinator
Digital marketing coordinators oversee and implement digital marketing strategies across various channels, such as social media, email, and search engine marketing. They monitor campaign performance, optimize digital assets, and collaborate with cross-functional teams. This role requires a solid understanding of digital marketing concepts, strategic thinking, and the ability to adapt to changing trends.
In the dynamic field of marketing, recent graduates have a wide range of entry-level job opportunities to explore. Whether you excel in data analysis, content creation, or strategic planning, there is a marketing role that can align with your skills and interests. At Chrome Solutions, we recognize brilliant, versatile people, develop their skills, and create an environment that nurtures their growth as leaders.
To learn more about our services, please click here. To embark on an exciting journey in marketing, send your resume to hr@chrome-inc.com.
---
---